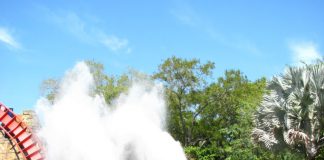 The Tampa theme park announced on Twitter Saturday morning that power was out. It was fielding complaints hours later from people who paid for parking and admission and weren't able to get on rides.
Joe Redner joined fill-in host Corey Dylan and LT Lafferty to discuss his fight to obtain medical marijuana in Florida. Redner is the owner of the Mons Venus, a nude strip club in Tampa, Florida and has been in the marijuana legal battle for some time.  In the interview, Redner called Florida legislators "traitors".
James Holden joins The Chris Ingram Program to discuss traffic issues and public transportation in Tampa Bay.
In an era where the NFL has become almost synonymous with controversy and character issues, Warrick Dunn continues to stand as a positive example for players and fans alike to follow.
A school bus and a semitractor-trailer collided in Florida, slightly injuring six high school students.
The Florida Highway Patrol tells news outlets that 41-year-old Adirut Promdi was traveling southbound Sunday on Howard Frankland Bridge when his vehicle experienced a mechanical failure and caught fire.
Topher Morrison, one of the candidates running for Tampa Mayor, joined Chris Ingram on air to discuss some of the issues facing Tampa and its candidates.
The Hillsborough Country Sheriff's Office released a video this week in response to a rash of students in Florida and across the country making joking "threats" against their schools that cause real reactions.
CENTCOM In Tampa: Ready "For An Attack On Syria." The Bay Area based CENTCOM is where plans for all Middle Eastern attacks are formulated.
City Councilman and candidate for mayor Harry Cohen joined Chris Ingram to discuss the mayor's race. [soundcloud url="https://api.soundcloud.com/tracks/427600629" params="color=#ff5500&auto_play=false&hide_related=false&show_comments=true&show_user=true&show_reposts=false&show_teaser=true&visual=true" width="100%" height="300" iframe="true" /] Listen to the...