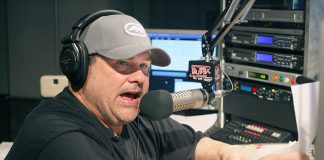 From time to time, Bubba The Love Sponge and his cast of characters will parody a song.  This year, with the holiday season upon us, Bubba invites you to take a break from thoughts of gingerbread and holiday roasts with the show's "tribute" to Simon and Garfunkel, something a little less festive.
MIAMI (AP) — Hurricane Michael intensified over warm Gulf of Mexico waters Tuesday amid fears it would swiftly become a major hurricane before making...
Per a news release on Friday morning, president of the South Seminole Heights Civic Association Stephen Lytle will announce his candidacy for Tampa City Council on September 6.
In a call for transparency, Tampa mayoral candidate Ed Turanchik has issued a refusal to participate in private forums regarding the mayoral race. Turanchik believes that "any forums conducted should, at a minimum, be open to the press".
Senator George LeMieux endorses Aakash Patel for Hillsborough County Commission, District 7.
Kenny Stills and two other Miami Dolphins renewed their protests before an exhibition game against the Tampa Bay Buccaneers, triggering yet another round of debate about the divisive NFL issue.
Chris Ingram, host of the Chris Ingram Show, had a debate with Hassan Shibly from the Council on American-Islamic Relations about whether or not it is appropriate for kids or pre-teens to attend a Donald Trump rally.
Jarrod Ramos, the Annapolis gunman, grew up in Anne Arundel, Md. and apparently harbored a longtime grudge against the Capital Gazette.  He resided in the circulation area of the Times and Post.  CNN is ubiquitous on local cable channels.  Raw Story is a popular digital news source.
The National Football League made their reported three game suspension of Buccaneers quarterback Jameis Winston official on Thursday afternoon.  Winston will miss the first three games of the 2018 NFL season, including a week three Monday Night Football contest at home against the Pittsburgh Steelers.
After 38 years, the Sun Dome is getting a corporate sponsor. D.G. Yuengling & Son have purchased the naming rights to the building, which will be renamed the Yuengling Center as of July 1.