New Year's Eve is just a few weeks away, and many are taking the time to start planning out how they will bring in the new year. A recent study determined Orlando is the second best city in America for New Year's Eve celebrations.
Star Wars fans are excited; it's premiere week for the highly awaited 'The Last Jedi.' Many theaters throughout the Tampa area are not only showing several screenings of the movie but also are having opening night fan events. A lot of screenings are already sold out, but here are the movie times still available for purchase.
NEW YORK (AP) — When nominations for the 75th annual Golden Globe Awards are announced Monday morning, the shadow of sexual misconduct scandals will be hard to avoid.
LOS ANGELES (AP) — There were cheers, gasps, droid photo opportunities, casino games and more than a few standing ovations at the jam-packed world premiere of "Star Wars: The Last Jedi" Saturday night in Los Angeles, which many are already praising online.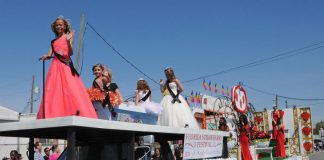 Tickets for the Strawberry Festival in Plant City went on sale this morning at 8 am. Just before tickets went on sale The Band Perry, a country artist in the festival lineup, canceled its show.
Thanksgiving got here quicker than most anticipated and if you're like me then you aren't quite prepared to impress friends and family with a delicious dessert. Here are some last minute, easy desserts to serve at Thanksgiving meals.
Thanksgiving is here and Tampa is gearing up to host many events and activities for families, children and adults to enjoy.
The countdown to Thanksgiving has officially started. The holiday is known not only for giving thanks but also for eating too much. With a few days to still prepare, we put together a list of recipes for a full course Thanksgiving meal that will impress amyone at family gatherings or friendsgiving.
The Florida Strawberry Festival is quickly approaching, and today the 2018 entertainment lineup was released. This year's lineup features big name artists such as Brad Paisley and The Band Perry.
Yes, Garth Brooks won entertainer of the year and Chris Stapleton picked up two honors, including album of the year.