CLICK HERE FOR CBSN COVERAGE CLICK HERE FOR CNN AUDIO COVERAGE CLICK HERE FOR CNN VIDEO COVERAGE CLICK HERE FOR FOX NEWS COVERAGE CLICK HERE FOR ABC NEWS...
Gillum was a frequent guest on both CNN and MSNBC while he was running against DeSantis, who was a Fox New star throughout the campaign.
I feel a little disheartened that Caputo, one of the fairest and most well-respected reporters by Democrats and Republicans alike in Florida, is taking a battlefield of flack from faux-outraged Republicans -- generally my ideological brethren who I thought understood and appreciated the meaning of free speech under the First Amendment.
https://embed.air.tv/v1/embed/8NFP2yhmREe6y8xCSF8pSg/oTBxQb-0S56gkw7m9smoBQ?video_sizing=fill-width&show_player_title=false&show_div_title=false&show_div_description=false&autoplay=true It began at the Trump Rally this past Tuesday in Tampa. I was covering the rally as part of the press corps for News Talk Florida. A...
As many of you know both Maddow and Cooper are openly gay and Wiles feels they are the leaders of what he says will be a left-wing coup hell-bent on killing President Trump and his family.
CNN has come under fire during the Trump Administration as a frequent target for the president's ire at what he dubs "fake news."  The cable network, a pioneer in television news, has few conservative voices, but one stands out in frequent political contributor Steve Cortes.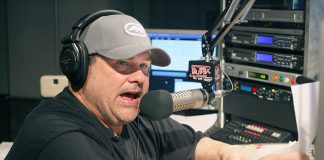 Interview with Stormy Daniels getting attention Disclaimer:  Bubba The Love Sponge airs on AM 820 News and 98.3 FM Pinellas County.  These stations are owned...
It's a paradox of hurricane coverage: people on television spend days warning the public to get out of harm's way, then station their correspondents squarely in the middle of howling wind and rain and hope they don't get hurt.
For a president seemingly at perpetual war with "fake news," the resignation of three CNN journalists over a retracted story about a Donald Trump Russian connection is a gift from the political gods at a time the struggling effort to repeal Obamacare dominates the headlines. Trump quickly took advantage with a series of tweets on Tuesday, and conservative provocateur James O'Keefe piled on by releasing a video with a CNN producer caught on camera talking about the network's Russian coverage being ratings-driven.
CNN wasn't saying Monday what led it to retract a story about a supposed investigation into a pre-inaugural meeting between an associate of President Donald Trump and the head of a Russian investment fund. The story posted Thursday on CNN's website said Senate investigators are looking into the meeting between Anthony Scaramucci, a member of Trump's transition team, and Kirill Dmitriev, whose Russian Direct Investment Fund guides investments by U.S. entities in Russia. Scaramucci, in the story, said he exchanged pleasantries in a restaurant with Dmitriev on January 16.