Home
Tags
Sen. Marco Rubio
Democrats from the Florida also weighed in on Friday after Trump agreed to sign a budget despite not getting his wall funded. 
Rubio said the block-grant money has already been sent to the Florida Division of Emergency Management and is not affected by the federal shutdown.
The Senate passed the bill on voice vote on Thursday as Rubio reeled in a majority of the Senate with 72 cosponsors.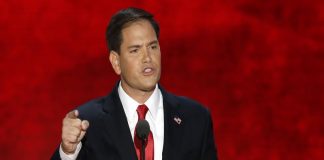 GOP Sen. Tim Scott of South Carolina withheld his support for Bounds during Thursday's vote, citing racially tinged opinion columns Bounds wrote as a college student at Stanford University. GOP Sen. Marco Rubio of Florida joined Scott, putting Bounds's nomination on track to fail 49-48.
Sen. Marco Rubio was quick to respond to Resident Trump's remarks. He said Trump's claim that Russia no longer presents a threat "is just not true."
Rubio announced his support of Caldwell on Wednesday afternoon, insisting he was more conservative than primary opponents state Sen. Denise Grimsley, R-Lake Placid, former state Rep. Baxter Troutman and retired Army Col. Mike McCallister who ran for governor in 2010 and for the U.S. Senate in 2012.  
U.S. Rep. Ileana Ros-Lehtinen, R-Fla., brought out a resolution "condemning the intimidation, violence, persecution, and murders committed against the people of Nicaragua by the Ortega regime" which has the support of three other members of the Florida delegation. 
Students are ready to take action themselves and they want to change things now UPDATE 5:30 PM - Right now, over 18,000 people across the country...
Florida's DACA Community See Time Running Out As Senate Can't Find A Fix. On March 5th the DACA protection will expire and over 800,000 people will be left in limbo.
Rubio and Nelson Differ On If Trump Budget Will Help Florida. The two highest ranking national lawmakers from the Sunshine State differ on the budget.