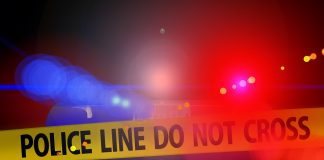 TAMPA, Fla. (AP) -- Tampa police say a man has been charged with murder and kidnapping after leading them to two dead bodies.
LAKELAND, Fla. (AP) -- An inmate has died after authorities say he repeatedly slit his throat in front of deputies as they pepper sprayed him and screamed for him to stop.
TAMPA, Fla. (AP) -- It's like a supermarket for Navy SEALs. A grocery store for Green Berets. A Costco for commandoes.
LAKE PARK, Fla. (AP) -- A Florida man died two days after authorities say he suffered a drug overdose while driving with an 11-year-old child.
A Bostwick, Florida man is lucky to be alive after getting bit by a rattlesnake on the tongue.
FORT LAUDERDALE, Fla. (AP) -- The U.S. Coast Guard is unloading cocaine in South Florida worth nearly $500 million from 20 separate seizures in the eastern Pacific Ocean.
Florida Governor Rick Scott is getting his next chief of staff from the inside, appointing a high-ranking aide and his top spokesperson to be his right-hand.
The U.S. Coast Guard continues to search for a missing twin-engine plane that was en route from Puerto Rico to Titusville Fla., where it was to refuel before heading to New York City.
A student was airlifted to Jackson Memorial Hospital after being stabbed outside of North Park High School in Opa-locka Tuesday morning.
DETROIT (AP) — A federal judge has ordered Uber not to use technology that a key executive downloaded before he left Waymo, the autonomous car company that was spun off from Google. But he refused to order a halt to Uber's self-driving program, as requested by Waymo.