Peter Jackson solidified his reputation as a grand film maker with his record shattering success on The Lord of the Rings movies. Since 2003, Jackson's filmography has included King Kong, The Adventures of Tintin, and even a return to Middle Earth with his The Hobbit trilogy.
Bill O'Reilly, for years, as one of cable news' thought leaders as a nightly host on Fox News.  The conservative commentator was unafraid to ruffle feathers and say exactly what he felt on a given issue, earning him a reputation as someone worthy of attention whether or not a viewer agreed with him.
Dan Maduri, host of Florida Live on 820 AM News Tampa Bay and 98.3 FM Pinellas County, will join a panel on ABC7's News At 7 on Friday night.  Host Alan Cohn will have a wide range of topics to discuss, including the upcoming midterm elections.
Sizing up a future of a network without its kingmaker, Wall Street sent shares of CBS down sharply Monday, the first day of trading since the departure of Les Moonves.
Once again our friends at UNation have provided us with another list of weekly options for the active Floridian, including Die Hard and Comic Con.
Another Pixar film hits the mark, according to our film reviewer, as the much-awaited Incredibles 2 proves a great follow-up to the original in an era of film marked by superheroes and sequels.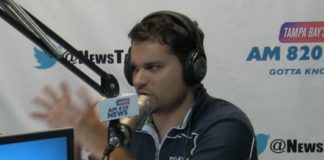 Dan Maduri, host of Florida Live with Dan Maduri, appeared on June 1 on Florida This Week, a weekly show on Tampa's own PBS station WEDU.
"Solo: A Star Wars Story" is losing momentum quickly at the box office, even with a relatively quiet weekend free of any new blockbuster competition. After an underwhelming launch, the space saga fell 65 percent in weekend two with $29.3 million from North American theaters, according to studio estimates on Sunday.
A Republican leader in Florida has said he doesn't understand the anger generated by Roseanne Barr's tweet comparing a former adviser to President Barack Obama to an ape.
George Hamilton has seen a lot, from actual hitmen consulting on mob movies to a bizarre hunting trip at President Lyndon B. Johnson's ranch.  The actor was invited into the president's car straight off of a plane, handed a gun, and taken on a hunting trip with the leader of the free world.