Home
Tags
Congressman Charlie Crist
Tag: Congressman Charlie Crist
With a recent poll from the American Legion showing one in five veterans uses marijuana for medicinal purposes, U.S. Rep. Charlie Crist, D-Fla., wants to ensure they can still apply for executive branch jobs in the federal government.
At the end of May, U.S. Rep. Jeff Denham, R-Calif., unveiled the "Department of Veterans Affairs Creation of On-Site Treatment Systems Affording Veterans Improvements and Numerous General Safety Enhancements Act" (VA COST SAVINGS Enhancements Act) with U.S. Rep. Charlie Crist, D-Fla., as the main cosponsor.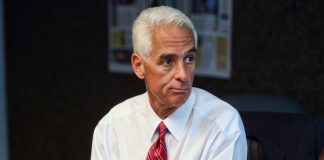 This week Congressman Charlie Crist (D-St. Petersburg) announced via email to News Talk Florida that he will be introducing the Reunifying Separated Families Act of 2018 requiring the Department of Homeland Security (DHS) to immediately reunify children separated from their families at the border following implementation of the Trump Administration's "Zero Tolerance" policy.
Rubio, Wants Trump to Fill Key State Department Post Now. The vacant assistant secretary of State for Democracy, Human Rights, and Labor (DRL), a post which has been vacant for the past year and a half. 
Crist: "This is the worst piece of legislation I have seen in my 20 years of public service." Yesterday the House passed the American Health...