ST. PETERSBURG, Fla.- Today is the last day for St. Pete's Mosley Motel residents to be out of their rooms as Pinellas County deputies helped escort residents from the premises.
The 110-room motel at 401 34th St. N has come to an end as the final two or three residents made their way out of their rooms this morning. Once upon a time, there were nearly 400 people that lived at the hotel, but today the 20 rooms that were occupied are now empty.
The motel's management decided to demolish the motel that is over 60 years old, which left hundreds of people scrambling to find new housing. Management told residents they needed to be out by Monday.
Pinellas County Sheriff Bob Gualtieri said at a news conference Monday morning outside of the motel, "I'll be blunt about it. It's a dump. People shouldn't be living in that."
"It's one of the worst situations I've ever seen. The conditions are pretty deplorable."
Carroll Vanzyl was one of the residents left to find new housing. She told abc action news, "we pay $800 a month, now we are going to a hotel down the street that is $920."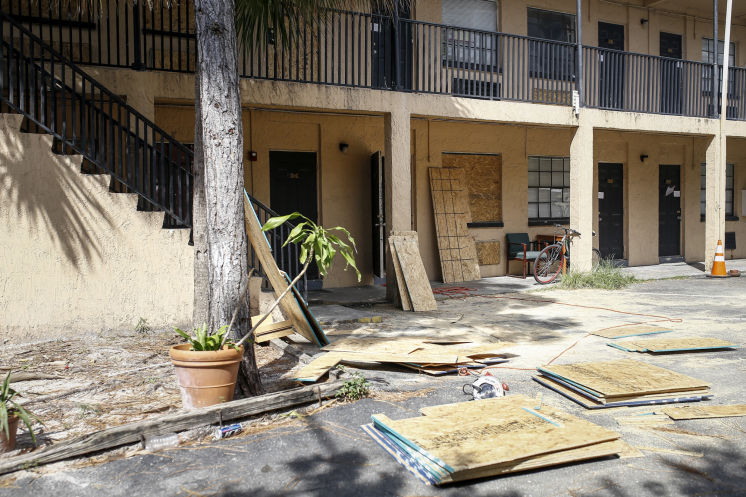 Cliff Smith, the city's Social Services Manager, was on site to help the remaining two or three families that had no where to go. He said that many of the residents at Mosley Motel were there because of bad credit and/or criminal records. His office went door to door talking to residents on Sunday afternoon to help them find new places to live.
Deputies combed through each room shortly before the deadline to leave. One family could be seen leaving with their four children about 15 minutes before the deadline. They packed up a white minivan while lots of bags and a little dog shoot in a parking lot next door.
Sitting under a tree near the motel was a couple with their three children carrying all of their belongings and waiting on a ride.
Smith said there is a major issue with affordable housing in the city and leaders are working on funding on new developments.
The property's new owner, Altis Cardinal of Miami, plans to demolish the building to make way for new development.