How Can Sexual Assault Victims Get Justice, When Justice And Our Culture Fail Them?
It seems the fallout from the Stanford rapist case is finally causing some traction in the hopes of tackling sexual assault. California Gov. Jerry Brown has signed a bill that will require mandatory sentences for those convicted of sexual assault.
It's pretty obvious that America hasn't done enough action against rape as the Centers for Disease Control and Prevention and the National Institute of Justice reports that 86 percent of adult rape cases never make it to the prosecutor.
So how big is this failure against a crime that happens every two minutes? Who is to blame and what are the causes?
When Justice Isn't Served
America saw the failure of the justice system last fall with the case that prompted California to change its law. Brock Turner raped an unconscious woman after she had consumed too much at a college party on Stanford's campus. Two Swedish exchange students interrupted him and held him captive until the authorities arrived.
The former college swimmer was convicted of three charges of felony sexual assault. While the conviction carried a sentence of 14 years in prison, Judge Aaron Persky only sentenced him to six months house arrest as well as registering as a sex offender. Persky's sentence pretty much forced California to change their laws and prompted the Brown signing the mandatory sentence law.
Here's what Persky had to say at the sentencing:
"So, as she writes, the damage is done. … And in my decision to grant probation, the question that I have to ask myself … Is state prison for this defendant an antidote to that poison? Is incarceration in state prison the right answer for the poisoning of [Jane's] life? And trying to balance the factors in the Rules of Court, I conclude that it is not and that justice would best be served, ultimately, with a grant of probation."
While many of those who practice law thought his reasoning was irrational and illogical, the point is it that it wasn't corrected. Turner still got a light sentence for a crime that should have gotten him more.
The national backlash of this sentence not only caused Persky to step down but also caused a lot of turmoil. Vice President Joe Biden spoke out on the sentencing but it's not like it was reviewed or changed.
"…I am filled with furious anger — both that this happened to you and that our culture is still so broken that you were ever put in the position of defending your own worth," Biden wrote. "I do not know your name — but I know that a lot of people failed you that terrible January night and in the months that followed. The statistics on college sexual assault haven't gone down in the past two decades. It's obscene, and it's a failure that lies at all our feet. And you were failed by anyone who dared to question this one clear and simple truth: Sex without consent is rape. Period. It is a crime."
Sentencing isn't the only issue with how America fails the victims of sexual assault. Sometimes it's a simple fact that rape cases aren't investigated. Buzzfeed News spent a year investigating a police department in Baltimore and its handling of rape cases. Buzzfeed found that police routinely didn't do any investigative work after preliminary interviews and they found the officers involved with the case dismissed them because they felt the victims did not do enough to "fight back" against the aggressor.
Another issue is the apparent backlog of rape kits. All across the country, labs are suffering from a backlog of rape kits. In Florida, there were 13,400 rape kits that have yet to be processed as of January 2016. This information came from the Sun Sentinel in a report, which also said that at least 9400 of these rape kits contained DNA.
The FDLE (Florida Department of Law Enforcement) and its analysts suggest that it is due to a lack of funding. The FDLE, in the January report, suggested that it is likely isn't going away any time soon due to the backlog and a possible 141 percent increase of submitted rape kits. It's a frustrating situation considering how much America has poured into its "War On Drugs" which many have come to believe as a failed campaign.
So far this "war" has cost America over $1 trillion and it's not likely to stop, as it has become a staple in the government budget. The government has passed a law to help with the funding through the Debbie Smith Act. The Debbie Smith Act promises to help with the backlog of rape kits by providing $151 million until 2019. However, labs are still backed up and that evidence could be critical to many cases. The message presented is America is clearly against drugs and will do what is needed in that arena but can't seem to find the funding to help with sexual assault.
Rape Culture, "Slut-Shaming" and Misogyny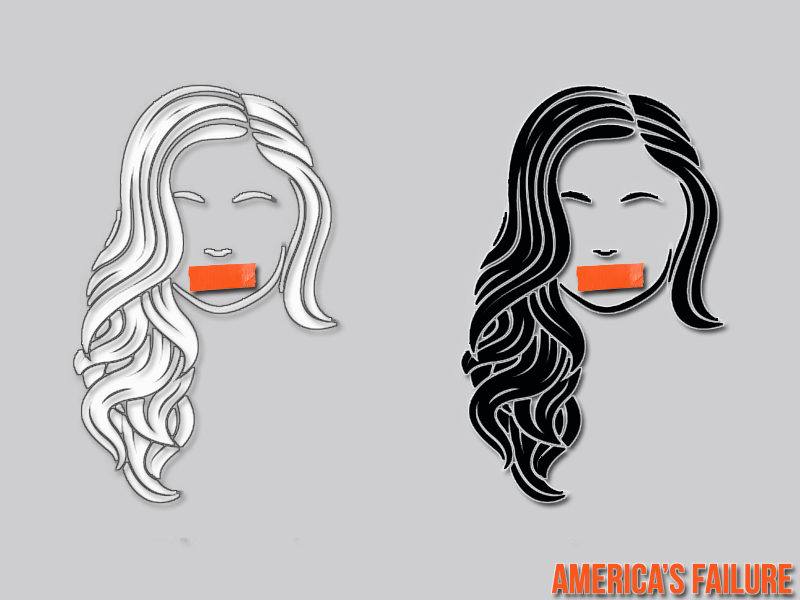 Part of our culture and its passiveness in changing how we view sexual assault comes from rape culture, "slut-shaming" and misogyny. Social media is a prime vehicle for this behavior. People hide behind their keyboards with no accountability posting some of the worst things imaginable.
In the last year, we've seen this behavior run rampant in sports.
The National Hockey League and Chicago Blackhawks' Patrick Kane gave a prime example of the rape culture prevalent in our society. The alleged victim was endlessly shamed on social media from Blackhawks' fans and hockey fans. One didn't have to scroll too far to see the endless amounts of victim blaming that took place. They didn't stop at victim blaming but also called the unnamed woman terrible names.
It didn't help that the bartender painted a picture of the woman "being all over Kane" as justification for the alleged assault. Fans used this to continue the victim shaming and protect their "hockey hero."
"It was almost like she stationed herself near him and was keeping other women away from him," the bartender said to the Buffalo News. "I noticed it and kind of laughed about it."
Many female reporters, who were just doing their jobs by reporting on the case, faced the same treatment. Chicago sports reporter Julie DiCaro was unable to go to her job because police had to investigate whether a threat was credible enough. She received a message with intimate details of her daily routine.
"Not at work today because of a threat made on Twitter last night," she wrote last April. "Can't believe I ever thought Hawks fans would be different than FSU/PSU."
This type of attitude isn't mutually exclusive to social media, as it has also been seen in the justice system. Canadian Judge Robin Camp, while presiding over a sexual assault case, asked the victim why she didn't "skew her pelvis" or move her body to avoid the penetration. Camp went ahead and acquitted the man, but a new trial is already scheduled for November.
He didn't end his comments there.
"Why couldn't you just keep your knees together?" he questioned her. He also had this to say about young women, all of this is via CNN and the trial transcripts: "Young wom[e]n want to have sex, particularly if they're drunk." Or this about sex in general: "Some sex and pain sometimes go together…that's not necessarily a bad thing."
"I want you to tell your friends, your male friends, that they have to be far more gentle with women," he said to the defendant. "They have to be far more patient. And they have to be very careful. To protect themselves, they have to be very careful."
This is another situation where a judge has failed a victim of sexual assault. Not only did Camp fail her, he also humiliated her in front of a courtroom for not "fighting back." When people look at the fact that 86 percent of these cases don't go anywhere and see a judge like Camp act the way he does, it starts to make a lot more sense. That 86 percent could stem from a feeling of hopelessness based on the actions of a judge like Persky or Camp.
The potential of having to relive the incident and then essentially get mocked while trying to seek justice is a big deterrent for rape victims. Why come forward when the suffering and humiliation is going to continue?
RAINN, the nation's largest anti-sexual assault organization, says that a rape is committed every 109 seconds. Only 6 out of every 1000 rapists will actually go to prison for committing the crime.
America has built a culture that ignores a very real problem. Sexual assault is a crime and it's time we started treating it like one.
Hope On The Horizon?
However, there is some hope for the victims of sexual assault as last week President Obama signed into law the Sexual Assault Survivors' Rights Act. The Act is sweeping legislation that will protect the rights of sexual assault survivors. It will focus on protecting the rape kits that are backlogged and it will also prevent victims from having to pay to have their kits active. Survivors must also be informed of results from the kit.
The law will also have survivors must be notified, in writing, 60 days prior to their kit's intended destruction and can request its preservation beyond the scheduled date. The law passed unanimously through Congress and Obama signed it late last week.
"Amidst the partisan bickering and gridlock in Congress, this law demonstrates that citizens can still effect positive change and that bipartisan progress is still possible," Sen. Jeanne Shaheen, who sponsored the bill, said in a statement. "Sexual assault remains one of the most underreported crimes and I hope that these basic rights will encourage more survivors to come forward and pursue justice."
For those who are victims of sexual assault, it's definitely a step in the right direction. In the end, it's still putting a band-aid on a larger issue. Our culture and justice system hasn't taken sexual assault seriously and it's time to change that.