Strong In Preliminary Talks With USF
Friday, December 9th 1:41 p.m.
According to Chris Low with ESPN, former University of Texas head coach Charlie Strong is in preliminary talks with South Florida over the open head coach position.
Sources told ESPN that Strong is scheduled to meet with USF on Friday. As of 1 p.m. Strong was present in Tampa.
247Sports' Josh Newberg, citing an unnamed source, reported that Willie Taggart is trying to hire Strong as his defensive coordinator at the University of Oregon.
With Major Applewhite being named Houston's next head coach Lane Kiffin might still be in the mix for the USF job.
Additional reporting by Allison Leslie.
Charlie Strong Wants To Come To USF
Charlie Strong could be named the the new head coach of the USF Bulls, replacing Willie Taggart who left to take the Oregon job less than 48 hours ago. The former University of Texas head coach seemed to be the target of the the search committee almost as soon as it met.
Roy Cummings, with WFLA News Channel 8, was the first to report the news and Sports Talk Florida sources confirmed Strong could be named the new USF coach by the end of the day Friday.
There is no white smoke coming out of the Lee Roy Selmon Athletics Center, but the two sides are talking. No word as of yet coming from USF athletic Director Mark Harlan.
Part of the what maybe the complexity of Strong's buyout comes the University of Texas. The deal is worth about $10.4 million to be payed over the next two years.
The deal has a clause that deducts any money USF pays Strong from the Texas deal. What could be holding the deal up is how best to back load the deal so that Strong can get max money from both Texas and USF.
The 56 year old Strong brings USF stability to the program. According to sources close to Strong tells Sports Talk Florida that he wants a school where he can be for the rest of his career.
Few people have a better relationship with high school coaches than does Strong. His ability to recruit top name talent is legendary.
He signed top name players for both Gators head coaches Steve Spurrier and Urban Meyer.
At the end of the 2009 year he left Florida where he was the defensive coordinator to get his first head coaching job at Louisville he had plenty of impressive references.
Ironically, one his biggest and most passionate supporters was none other than former Bucs head coach Tony Dungy. The same man who about a week ago called Oregon officials about USF coach Taggart.
Once at Louisville, Strong went down to south Florida and stole the talented quarterback Teddy Bridgewater away from a number of Sunshine State schools who wanted him.
It was with Bridgwater that Louisville had great success. With the big moment coming when Strong and Louisville beat the Gators in the Sugar Bowl game in 2013, which would in turn seal his fate as becoming head coach at the University of Texas.
Should Strong be sign he will have beaten out some quality coaches.
Alabama offensive coordinator Lane Kiffin, former Tampa Bay Bucs head coach Greg Schiano, now serving as the defensive coordinator for Urban Meyer at Ohio State and former LSU head coach Les Miles were among the big names who wanted a shot a being the Bulls head coach.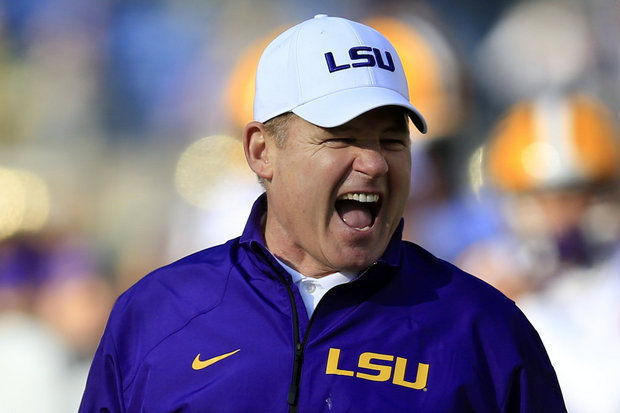 There were a number of coordinators from Power 5 Conference schools who were thought to be on the list to be checked out.
In the end Strong seems to have checked all of the boxes including being an instant fan favorite.
While USF said they were going to take their time in hiring a coach they were up against the December 12th dark date when coaches can't speak to recruits.
If this deal can be worked out and Strong is hired it will be a great get for Bulls Nation.
Additional reporting by Allison Leslie.