By KEVIN DERBY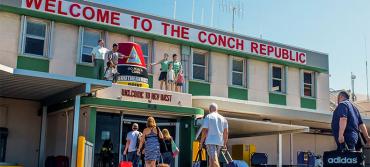 Key West International Airport
This week, as part of more than $475 million in infrastructure improvement grants to airports around the country, the U.S. Department of Transportation is sending almost $22 million to airports in the Sunshine State.
U.S. Transportation Secretary Elaine Chao announced Wednesday the Federal Aviation Administration (FAA) will send funds to 10 airports in Florida.
"This significant investment in airport improvements in Florida will fund construction and rehabilitation projects that will help maintain high levels of safety in U.S. aviation," said Chao.
Key West International Airport is getting $9.3 million to rehabilitate a taxiway and lighting.
Elaine Chao Punta Gorda Airport will be getting $6.4 million from DOT to conduct a wildlife hazard assessment and rehabilitate a runway. Orlando Executive Airport is getting $4.2 million from DOT to rehabilitate a taxiway.
Naples Municipal Airport is penciled in to receive $600,000 for an airport noise compatibility plan study.
U.S. Rep. Ted Yoho, R-Fla., was happy to see Palatka-Kay Larkin Municipal Airport getting almost $454,000 to install taxiway lighting and build a new runway.
"I'm incredibly excited about the development and growth we are seeing in Putnam County and Palakta," Yoho said this week. "The airport has been a driver of tourism and industry and with this grant from the FAA, we will see that activity increase. I am proud to have supported this project and appreciate all the hard work by the city of Palatka. Congratulations to the city of Palatka and we look forward to more wins like this in the future."
Lake Wales Municipal Airport is getting $225,240 to update the airport master plan while Inverness Airport is getting more than $235,000 to for runways and a new satellite navigation system. Hilliard Airpark is getting $150,000 to acquire land for runway approach areas. La Belle Municipal Airport will get almost $114,000 to rehabilitate a taxiway and Winter Haven Regional Airport is getting $72,000 to extend a runway.
See a complete list of the airports receiving grant money nationwide on the FAA's website.