The fallout from Trump's handling of the separation of immigrant children from their families, which led to a sharp reversal from the president, has been reminiscent of the chaos sparked when Trump opened his administration by imposing a travel ban on immigrants entering from majority Muslim countries.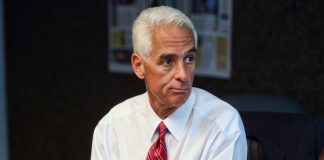 This week Congressman Charlie Crist (D-St. Petersburg) announced via email to News Talk Florida that he will be introducing the Reunifying Separated Families Act of 2018 requiring the Department of Homeland Security (DHS) to immediately reunify children separated from their families at the border following implementation of the Trump Administration's "Zero Tolerance" policy.
The tour included dorm-style buildings where children sleep up to 12 per room in steel-framed bunk beds, and warehouse-sized, air-conditioned white tents where minors attend classes and watch movies.
"I'll be signing something in a little while that's going to do that," he told reporters at the White House. "I'll be doing something that's somewhat preemptive and ultimately will be matched by legislation I'm sure."
Speaking to reporters outside the center Sen. Nelson lashed out at H.H.S. for hiding the children from the lawmakers and reporters.
House GOP leaders are revising their legislation amid a public outcry over President Donald Trump's "zero tolerance" approach to illegal crossings. The change would loosen rules that now limit the amount of time minors can be held to 20 days, according to a GOP source familiar with the measure. Instead, the children could be detained with their parents for extended periods.
President Donald Trump is using children as a wedge to get his wall built separating the United States from Mexico. Polls show that while most American's think this is something that needs to stop now, 58 percent of Republicans polled liked the tough policy on immigration and that includes a small group of very Conservative members of Congress.   
President Donald Trump is claiming exoneration in the Russia matter from a Justice Department report that actually offers him none. He's also branding fired FBI chief James Comey a criminal, though the report in question makes no such accusation.
Jose Aparicio is undeterred by a new directive from Attorney General Jeff Sessions declaring that gang and domestic violence will generally cease to be grounds for asylum. To him, it's better to take his chances with the American asylum system and stay in Mexico if his bid is denied.
Speaker Ryan Say President Trump Favors New Immigration Plan. There might be a bill on immigration by the fall that could pass the Congress.