MIAMI (AP) — The last shelter used for Hurricane Irma evacuees has closed in Miami-Dade County.
TAMPA, Fla. (AP) — Officials say a fire that destroyed a Florida elementary school was caused by electrical failure and extensive water damage in the aftermath of Hurricane Irma.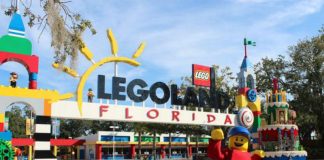 WINTER HAVEN, Fla. (AP) — Legoland Florida is giving away 20,000 tickets to help cheer up in kids affected by Hurricane Irma.
GAINESVILLE, Fla. (AP) — During the largest hurricane to hit Florida, five weeks early and under a flashlight, baby Aiden Christopher Tracey entered the world in a stranger's arms.
Shelby Hoogendyk says that when she, her husband and her 17-month-old son arrived at an emergency shelter as Hurricane Irma closed in, they were separated from others by yellow wristbands and told to stay in an area with other people like them — the homeless.
NEW YORK (AP) — The power's back on in Florida. So why is the internet still out for some people, more than two weeks after Hurricane Irma struck?
MIAMI (AP) — Comic-book publisher Stan Lee has been writing about superheroes for his entire career, and now he's hoping to be one himself...
Hurricane Irma Mangled Florida's State, National Parks NAPLES, Fla. (AP) — Hurricane Irma mangled Florida's national and state parks, turning places meant to be enjoyed...
KEY WEST, Fla. (AP) — Royal Caribbean International's Empress of the Seas docked in Key West on Sunday - the first cruise ship to...
SARASOTA, Fla. (AP) — As mountains of garbage piles up from Hurricane Irma, counties across Florida say that companies they hired to remove debris won't show up because they can make a lot more money doing the work in South Florida.