Home
Tags
Gov. Rick Scott
On Friday. Gov. Rick Scott announced that the unemployment rate in Florida stayed at 3.8 percent in June, below the national average of 4 percent.
A Leon County circuit judge in February rejected Scott's request to dismiss the case, which was filed by a Tallahassee attorney seeking to require Scott to provide more disclosure, including details of a blind trust. Scott is the richest governor in state history and had a December 2017 net worth of $232 million, with $215 million in the blind trust.
Attorneys for the Republican governor clashed Tuesday with a Tallahassee attorney and one-time top fundraiser for former President Barack Obama who contends that Scott is underreporting his vast personal wealth. Scott recently reported a net worth of $232 million to the state, but that does not include assets held by his wife, Ann Scott.
The Marjory Stoneman Douglas Public Safety Commission on Wednesday grilled officials from Broward County, Coral Springs and Parkland over the response to 911 calls during the Feb. 14 shooting that left 14 teenagers and three faculty members dead.
A new poll shows Gov. Rick Scott with the lead over U.S. Sen. Bill Nelson, D-Fla., in what is expected to be one of the most competitive Senate races in the nation.
After touring the Caloosahatchee River Monday morning, Scott imposed the order for Glades, Hendry, Lee, Martin, Okeechobee, Palm Beach and St. Lucie counties "to help combat algal blooms caused by Lake Okeechobee water discharges from the Army Corps of Engineers."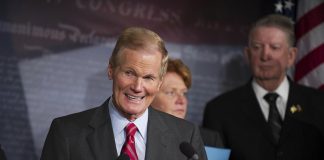 It's grim news for Florida's senior senator, already trying to play catch-up in the race to hold his seat against a surging Gov. Rick Scott.
So, of course, when the governor announced the state is moving forward with privately funded high-speed rail between Orlando and Tampa, the Dems couldn't just sit in silence and let the Republican Senate candidate take credit. FDP spokesman Nate Evans had to issue a statement.  
Two polls are out and they have differing results, we have the latest NBC News/Marist poll released late Tuesday with Sen. Nelson holding a lead over Gov. Scott, but then there is a new CBS/YouGov poll gave Scott a slight edge.
"As one of the nation's fastest growing regions, Tampa Bay is a natural extension for Brightline," Goddard said in a prepared statement. "Our state's residents, visitors and economy will benefit tremendously from a fully connected passenger rail system that includes our current operations in South Florida and our future line to Orlando. We are currently engaged in the RFP process, which is the first step needed to extend the system to the Tampa Bay region."