Home
Tags
Gov. Rick Scott
Scott also noted that he has funded spring protection more than any other governor in Florida history, pointing to his support of the Legacy Florida bill to help springs back in 2016 and his administration acquiring more than 10,000 acres of land around springs.
U.S. Sen. Bill Nelson is sticking to his comment that "Russians are in Florida's election records," as Gov. Rick Scott pushes for more information and questions the veracity of the claim.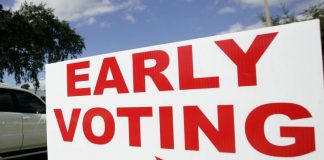 Eighteen of Florida's 67 counties start early voting today, including several large counties such as Duval, Hillsborough, Miami-Dade, and Palm Beach. Other counties start in the coming week.
Although he talked about other things, it was obvious the president understands the importance of the economy as a sales tool for Republican candidates.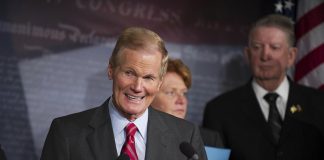 Mason Dixon released a poll of likely voters on Tuesday morning which shows Scott taking 47 percent of those surveyed while Nelson pulls 44 percent with only 9 percent undecided. 
The Trump Show will be at the Florida State Fair Grounds in Tampa tonight at 7 p.m. and it will likely attract a very big crowd. The idea is that President Donald Trump will do his best to promote Rep. Ron DeSantis (R-Fla.), who is running for states GOP gubernatorial nomination over his rival Adam Putnam in the primaries coming up on Aug. 28th. He will also be stumping for Florida Gov. Rick Scott, a long time supporter of Trump who is hoping to defeat incumbent U.S Senator Democrat Bill Nelson. Trump would love to see another Republican in the Senate who will follow his agenda. We also expect to rally the crowd to build up support for the economy, his nomination of Brett Kavanaugh to the Supreme Court, and rail against the Muller Probe. He will likely spend a great deal of talking about immigration and about the wall which he has said that at least at this point he might be willing to shut the government down in late September if the funding is not there for his signature issue that he feels took him all the way to the White House. The possibility of shutting down the government about a month away from the midterms is something the GOP led Congress is not interested in hearing about. As is another topic and that is President Trump's tariffs that are hurting farmers from Florida to California. So, expect to get vintage Trump at today's Tampa rally and here is what you need to know if you have free tickets. When: Tue, July 31 at 7 p.m. Doors open at 4 p.m. Where: Florida State Fairgrounds' Expo Hall – Tampa, FL How to get tickets: As of Monday morning, tickets were still available. The free tickets are available on a first-come, first-serve basis. You can only register as many as two tickets per phone number. Click here to register for tickets
When Markeith Loyd killed his girlfriend and a police officer, indirectly caused the death of another police officer, and the death penalty wasn't put on the table, Rick Scott was all over the case like white on rice.
Last month, Scott, who is challenging U.S. Sen. Bill Nelson, filed his annual state disclosure that showed a December 2017 net worth of $232 million. But the details were scant, including the shielded investments in a $215 million blind trust, which rose by more than $80 million from the previous year and produced $120 million in income.
Scott said over the course of the past 15 months, the Senate has only held substantive sessions on Friday two times -- instead preferring to operate with three-day work weeks, with votes starting on Monday evening and ending on Thursday afternoon.
https://embed.air.tv/v1/embed/AzY_Z8jfS-qMu4zN9jZ9HQ/oTBxQb-0S56gkw7m9smoBQ?video_sizing=fill-width&show_player_title=false&show_div_title=false&show_div_description=false&autoplay=true Tampa has been one of President Donald Trump's favorite spots to campaign and running for the White House he made five stops here. Next...