Home
Tags
Former VP Joe Biden
WASHINGTON (AP) — A resurgent Joe Biden scored victories from Texas to Massachusetts on Super Tuesday, revitalizing a presidential bid that was teetering on...
[youtube https://www.youtube.com/watch?v=hYsPw_1kesA&w=560&h=315] ATLANTA (AP) — The presidential politics calendar turned to 2020 nearly a year ago. This week, the actual date catches up. What we're...
Despite the President's issues with Charlottesville and the firm backing of White Supremacists groups he and his team seem to think they can use these tactics to win. The goal is to tar Biden with the Crime Bill.
There are plenty of talented Democrats in a group of 20 plus presidential candidates that could unseat President Trump in the fall of 2020. But for now there is the only one that has spooked the man in the White House and that is Biden.
On today's show, David is live from Westwood One studios in NYC. He recaps events from yesterday honoring 41st U.S. President George H.W. Bush. David...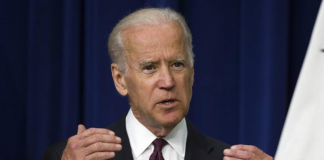 Former Vice President Joe Biden criticized President Donald Trump without saying his name Saturday, telling a crowd of Florida Democrats last year's election unleashed a coarseness that hadn't been seen in decades but he said the party's candidates can overcome that by showing disgruntled voters that they have solutions. Giving a campaign-style, 45-minute speech at the state Democratic Party's annual fundraising dinner, Biden told about 1,300 party supporters that Democrats must help Americans see that the future is bright and overcome their fears. Biden has said he isn't planning a third run for president by challenging Trump in 2020 -- though he hasn't ruled it out either -- and he certainly acted like a potential candidate Saturday. He got laughs when he pointed out Saturday was his 40th wedding anniversary, but he was spending it giving a speech.