Home
Tags
FLORIDA SEN. MARCO RUBIO
Tag: FLORIDA SEN. MARCO RUBIO
Rubio's and Baldwin's bill would stop the sale of national security sensitive technology and intellectual property to China, ensure China is taxed for its holdings on the U.S. national debt and other investments in America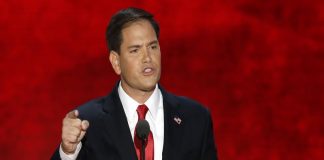 "Even before meeting with Judge Kavanaugh, it was evident that he is a qualified, mainstream jurist who possesses the right temperament and experience to serve on the U.S. Supreme Court.
Rubio released a video last month which he showed last week on the matter.
Rubio and Cortez Masto brought out the "Countering the Chinese Government and Communist Party's Political Influence Operations Act." The proposal would have the U.S. Secretary of State and the Director of National Intelligence (DNI) create an interagency task force to examine how China attempts to influence the U.S. and key allies. Under the bill, the task force is called on to make a recommendation to the White House and Congress on whether to create a permanent office to monitor to China's attempts to influence American politics.  
When it comes to how the Trump admiration's "Zero Tolerance," policy on immigration is playing out so harshly Democratic Sen. Bill Nelson and his Republican counterpart Marco Rubio think things have been allowed to go way too far.
Click on the video above to get the latest video news 4 PM to 7 PM then at 9 PM will be the live...