Trump's presidency, and his candidacy before it, has been in large part defined by his willingness to abandon conventional political behavior when it suits him — a recurring feature in criticisms of the president. Many of his opponents, too, have trampled American political norms, even as they rush to "resist" Trump.
They go well beyond lacking tact, to just plain being crude and distasteful. They are certainly not amusing and would not be favorably met by the news media if such comments were directed towards a Democrat, but it appears to be acceptable to address them at Republicans, thereby revealing the double-standard set by the media.
Multiple Republicans in the House and Senate crafted proposals in June to deal with family separation. They even went a step further, attempting to address both the root causes and consequences of illegal immigration, like the lack of judicial infrastructure to deal with the massive waves of migrants entering the country illegally.
U.S. Sen. Bill Nelson and other Florida Democrats are calling on federal authorities to reject a proposed change to the state's Medicaid program. The administration of Gov. Rick Scott has asked for approval to shorten the amount of time that people can apply for Medicaid coverage once they need medical help. The move could save an estimated $98 million.
After being a political football for 116 days CHIP is funded for six years  After waiting for nearly six months the Senate voted 81-15 to extend...
Florida's large population of military and civilian workers will be back on the job Tuesday For Florida's large group of government workers, a three day...
Starting now and ending in November Florida Democrats are hoping that they will get a "Blue Wave," that will wash the Republicans out of power in Tallahassee. As their number one enemy Gov. (R) Rick Scott gave his State of the State Address, Sunshine State Democrats took aim the man whose office they want in 2018.
The 2016 presidential contest was awash with charges that the fix was in: Republican Donald Trump repeatedly claimed that the election was rigged against him, while Democrats have accused the Russians of stacking the odds in Trump's favor. Less attention was paid to manipulation that occurred not during the presidential race, but before it — in the drawing of lines for hundreds of U.S. and state legislative seats. The result, according to an Associated Press analysis: Republicans had a real advantage.
Republican Karen Handel declared victory in Georgia's 6th Congressional District with a promise that she'll work to gain the confidence of voters who backed her Democratic opponent. But in the same speech Tuesday night, Handel also thanked President Donald Trump, underscoring her campaign's triumph over the anti-Trump resistance in the traditionally Republican district. Handel won about 52 percent of the vote to quell the upstart phenomenon of Jon Ossoff, a 30-year-old Democrat who raised more than $23 million, much of it from out of state.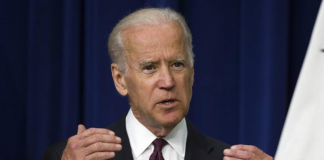 Former Vice President Joe Biden criticized President Donald Trump without saying his name Saturday, telling a crowd of Florida Democrats last year's election unleashed a coarseness that hadn't been seen in decades but he said the party's candidates can overcome that by showing disgruntled voters that they have solutions. Giving a campaign-style, 45-minute speech at the state Democratic Party's annual fundraising dinner, Biden told about 1,300 party supporters that Democrats must help Americans see that the future is bright and overcome their fears. Biden has said he isn't planning a third run for president by challenging Trump in 2020 -- though he hasn't ruled it out either -- and he certainly acted like a potential candidate Saturday. He got laughs when he pointed out Saturday was his 40th wedding anniversary, but he was spending it giving a speech.