Members of a Memphis church stood and applauded their pastor, Andy Savage, on Sunday when he admitted to and apologized for engaging in a...
[soundcloud url="https://api.soundcloud.com/tracks/382193918" params="color=#ff5500&auto_play=false&hide_related=false&show_comments=true&show_user=true&show_reposts=false&show_teaser=true&visual=true" width="100%" height="300" iframe="true" /] Donald Trump is upping the ante on his immigration stance, and with that comes a nationwide crackdown on...
When a middle school English teacher in Louisiana questioned pay policies during a school board meeting, she was led out of the building in...
Dr. Raul Esperante sits down with Dan Maduri to talk about a recent archaeological discovery that could lead to Noah's Ark. What would this...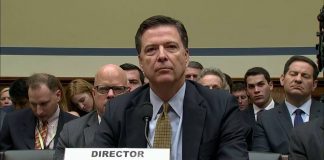 As former FBI Director James Comey testifies on Capitol Hill, News Talk Florida will have total coverage. Florida State Senator Darryl Rouson and political strategist Barry Edwards, will be in the air chairs at our flagship station WWBA-AM 820 anchoring the coverage on Florida Live airing from 3 p.m. to 6 p.m. filling in for the vacationing Dan Maduri, the rest of the week.