Home
Tags
Attorney General Jeff Sessions
Tag: Attorney General Jeff Sessions
Taking to Twitter to complain about the ongoing Russia investigation, Trump said Sessions "should stop this Rigged Witch Hunt right now, before it continues to stain our country any further."
About 2,000 children have been separated from their families at the border over a six-week period during a crackdown on illegal entries, according to U.S. Department of Homeland Security figures obtained by The Associated Press Friday.
Attorney General Jeff Sessions, facing fresh questions about his Russian contacts during the election campaign and his role in the firing of James Comey, will be interrogated in a public hearing by former Senate colleagues on Tuesday. The appearance before the Senate intelligence committee comes one week after former FBI Director Comey cryptically told lawmakers the bureau had expected Sessions to recuse himself weeks before he did from an investigation into contacts between Trump campaign associates and Russia during the 2016 election.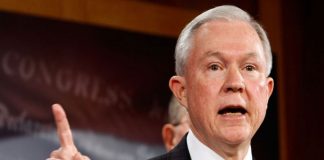 WASHINGTON (AP) — Mayors from several U.S. cities threatened with the loss of federal grants emerged from a meeting with the attorney general Tuesday...