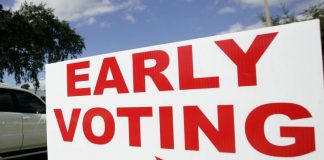 Eighteen of Florida's 67 counties start early voting today, including several large counties such as Duval, Hillsborough, Miami-Dade, and Palm Beach. Other counties start in the coming week.
President Donald Trump hit town yesterday and was greeted at the airport by longtime supporters Florida Attorney General Pam Bondi, joined by Congressman Gus Bilirakis and Matt Gaetz, two Florida Republicans running for re-election.
Between Elizabeth Cuevas-Neunder, a supporter of gubernatorial candidate Ron DeSantis, seen and reported for "stuffing the ballot box," and left-wing gate crashers standing on tables, hurling objects and shouting down Gov. Rick Scott, event organizers had no choice but to trash their tainted grand finale -- the all-important straw poll.
With the Florida primaries for both the Republican and Democratic Parties just weeks away, President Donald Trump will be in Tampa on Tuesday evening.
On Monday, ATR announced that both of the Republicans signed ATR's Taxpayer Protection Pledge. 
Well, Tuesday night in Georgia Republican's went to the polls to cast their vote to elect their party's candidate for governor to run in the general election in November. Secretary of State Brian Kemp, with the help of an endorsement of President Trump, won a decisive victory and he will face Democrat Stacey Abrams in what is likely to be one of the most watched races of the midterms.
https://embed.air.tv/v1/embed/AzY_Z8jfS-qMu4zN9jZ9HQ/oTBxQb-0S56gkw7m9smoBQ?video_sizing=fill-width&show_player_title=false&show_div_title=false&show_div_description=false&autoplay=true Tampa has been one of President Donald Trump's favorite spots to campaign and running for the White House he made five stops here. Next...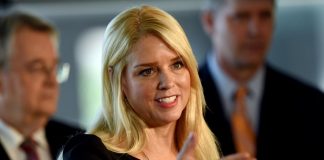 Bondi appeared at an event in Winter Park with Putnam on Thursday and talked about her experience working with him in the state Cabinet.
"I guess the moderators (Martha MacCallum and Bret Baier) figured people watching in Iowa or Oregon would be bored hearing about the algae in our estuaries or the candidates' plans for failing schools," said Myrna Franklin, a retired school teacher from South Florida. "I understand that. But I think talking about the things Washington needs to fix gave the edge to Ron DeSantis. That's his comfort zone.
A capacity crowd of over +2,500 people attended the debate televised live by Fox News and moderated by Fox's Bret Baier and Martha MacCallum.