Reports Indicate Possible Backlash Against Trump
Well, Donald J. Trump's day of reckoning may have finally arrived. NBC's Katy Tur, who Trump attacked about a week ago in a press conference, is reporting that key GOP members are not only unhappy with their nominee but may be planning on turning on him.
Now, why would there be trouble in paradise? It wouldn't have anything to do with the feud Khizr Khan, the DNC speaker who lost his son who served in Iraq 2004. It wasn't when Trump kicked out a mother whose child couldn't stop crying during his town hall meeting, which happened this week. It wasn't when Trump accused a judge of not being able to be impartial due to his Hispanic heritage. It wasn't even when President Obama called Trump "unfit to be president."
No, what has the GOP base up in arms is Trump's refusal to support Speaker of the House Paul Ryan. Ryan reluctantly has backed Trump but has prefaced it as a prevention of continuing the current administration's policies. But that seemed to have struck a nerve with Trump. Earlier, Trump actually came out and praised Ryan's opposition Paul Nehlen.
When asked if he was ready to support Ryan and Senator John McCain, who Trump has had some dust-ups with as well, he wasn't going to give a clear answer.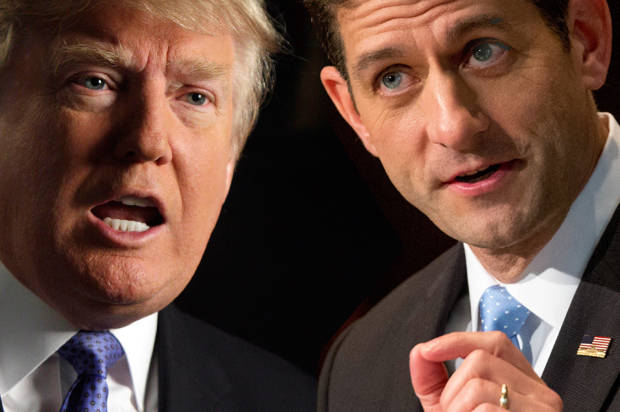 "I like Paul, but these are horrible times for our country. We need very strong leadership. We need very, very strong leadership. And I'm just not quite there yet. I'm not quite there yet," Trump said of Ryan to The Washington Post.
As for Senator McCain, who has a big problem with Trump, he shouldn't expect his party's nominee to support him. McCain had some interesting comments regarding the whole Khan-Trump feud and how Trump doesn't represent the GOP.
"While our Party has bestowed upon him the nomination, it is not accompanied by unfettered license to defame those who are the best among us," McCain said in a statement Monday. "I cannot emphasize enough how deeply I disagree with Mr. Trump's statement. I hope Americans understand that the remarks do not represent the views of our Republican Party, its officers, or candidates."
Now, it seems this happened to be the straw that broke the camel's back as the GOP is in an uproar. According to Tur, the RNC's own Reince Preibus called several people in the Trump campaign to express his displeasure at Trump's non-endorsement. Tur also reports that the next 24-72 hours will be very important, as the GOP establishment is getting ready to turn on their nominee.
Of course, it could all be falling apart around Trump as there are also reports that Paul Manafort and the Trump campaign staff are "mailing it in" according to a Manafort ally who spoke to NBC.
"Manafort not challenging (Trump) anymore," Manafort's ally wrote to NBC. "Mailing it in. Staff suicidal."
The Trump campaign staunchly denied any lackadaisical effort on behalf of the campaign. Would anyone expect them to come out and admit it?
"The idea that Paul Manafort's mailing it in is completely erroneous," Trump campaign spokesman Jason Miller said to NBC's John Harwood. "Our campaign just finished up our strongest month of fundraising to date, we're adding talented and experienced staffers on a daily basis, and Mr. Trump's turning out bigger, more enthusiastic crowds than Hillary Clinton ever could."
Trump's ability to fly by the seat of his pants may have helped him win the nomination but it seems that he has gone too far this time.
information from NBC was used in this report