By NANCY SMITHAugust 10, 2019 – 9:00pm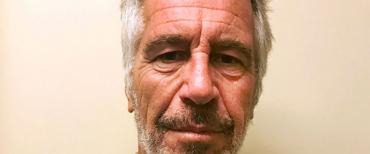 Jeffrey Epstein: photo from the New York State Sex Offender Registry
Wealthy financier Jeffrey Epstein held in a New York federal prison on sex trafficking charges, was found unresponsive in his cell early Saturday morning and later pronounced dead at a local hospital. Death was by hanging; foul play was not suspected.
But Epstein's death came within 24 hours after long-sealed documents were released by a federal court in a since-settled lawsuit against Epstein's ex-girlfriend by Virginia Giuffre, one of Epstein's accusers. The documents included depositions of years of alleged sex acts involving literally dozens of underage girls, some as young as 14 years old.
It immediately raised questions, if not outright suspicions.
Epstein had been jailed in New York since early July, when he was indicted and pleaded not guilty to charges by federal prosecutors after an indictment accused him of sex trafficking. The indictment renewed attention as to how Epstein — "who had opulent homes, a private jet and access to elite circles" — had escaped severe punishment in an earlier investigation of sexual abuse more than a decade ago in Florida.
Epstein, 66, was known for his high-profile connections. In fact, the new federal indictment also focused scrutiny on such Epstein associates as Donald Trump, Bill Clinton, Britain's Prince Andrew and the retail billionaire Leslie H. Wexner.

U.S. Attorney General William Barr was the first Saturday morning to put his suspicions of Epstein's suicide into words, vowing the Department of Justice Inspector General would open an investigation in addition to the FBI investigation
"I was appalled to learn that Jeffrey Epstein was found dead early this morning from an apparent suicide while in federal custody. Mr. Epstein's death raises serious questions that must be answered," Barr said in a statement. "In addition to the FBI's investigation, I have consulted with the Inspector General who is opening an investigation into the circumstances of Mr. Epstein's death."
Epstein, perhaps the highest profile inmate in the federal correctional system, was removed from suicide watch July 29, just six days after self-inflicted bruising on his neck was spotted, the New York Times reported. It meant he was returned to the special housing unit at the jail, which is separated from the rest of the facility and has extra security.
Suicide watch is a more "punitive management of an inmate," Lindsay Hayes, an expert on inmate suicide and prevention, told CNN. He said it typically includes being locked in a cell without contact with other inmates, being served only finger foods, and being required to wear a "safety smock" instead of regular jail clothing.
"If there was any wrongdoing, people should be held accountable," said Hayes.
"The decision to remove him (from suicide watch) appears to have been a colossal error that must be thoroughly probed," Harry Litman, former U.S. attorney and deputy assistant attorney general, wrote in a column in the Washington Post. Litman also questioned why Epstein was given access to the tools needed for suicide.
Federal jails and prisons are required to house at least one room for inmates on suicide watch with staff taking shifts to ensure the individual is under "constant observation." That typically means having someone watching inmates 24 hours a day.
Observers must document behavior, under federal law, and inmates can only be removed from suicide watch when they are determined to be "no longer at imminent risk for suicide" or in need of medical attention.
Christine Tartaro, a criminal justice professor at Stockton University in New Jersey, told reporters Epstein's celebrity status, and the crimes he was accused of, likely warranted some extra supervision.
Epstein's suicide cuts the legs off a prosecution his accusers hoped would finally show how he had been allowed to commit what they said was a string of depraved crimes for so many years — "and what role his wealth, privilege and connections played."
Reach Nancy Smith at nsmith@sunshinestatenews.com or at 228-282-2423. The material for this stories was gathered largely from CNN, USA Today and The New York Times.