Burglar Broke Into Home To Pet Cat
A St. Petersburg mother was startled to wake to her neighbor standing before her bed petting her cat.
On November 20th around 3:30 a.m. Brittney Cline said she woke from a dead sleep when her cat jumped off the bed.
"When I opened my eyes I could see the shadow of a man standing at the end of my bed," Cline told WFTS. "He was standing perfectly still, I said 'hello' and when I said hello he dropped very slowly down to the ground.   And as soon as I saw the shadow move down to the ground I knew somebody was there."
Cline grabbed her phone and turned on the light to find her neighbor crouched at the end of her bed petting her cat.
"I'm panicked of course," she told WFTS. "I said 'what are you doing get out of my house' and he looked at me very calmly and said 'hey' turned around walked back to my doorway."
Cline said the man got away, but he soon returned Wednesday morning and she was ready for him.
"I can't believe he came back," Cline said.
Jasper Fiorenza, 24, was arrested by St. Petersburg Police on charges of burglary and resisting an officer without violence.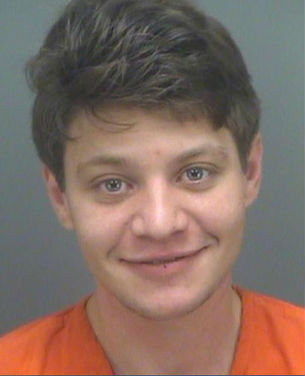 Detectives were able to pull a fingerprint from Cline's bedroom door.
"It's very fortunate I had the baby gate in the doorway," Cline said. "That's where they pulled the print from so he had to put his hand on the door frame to climb over the baby gate."
Fiorenze lives with his father a street over from Cline's house. He was arrested in 2014 for simple battery and grand theft.
Police tracked Fiorenze on Wednesday trying to break into other homes in the neighborhood. Cline has since installed a new home security system.