Trump is brash and far from the conventional politicians and that is why he won
Donald J. Trump the 45th President of the United States, a man who crushed 16 Republican candidates in route to the Party's nomination. Then yesterday he defeated a former Secretary of State Hillary Clinton making sure that the establishment understood that he was not messing around.
All along the Trump was the unconventional candidate in the history of modern politics. He had no background as a politician and had no problem speaking his mind no matter who he offended.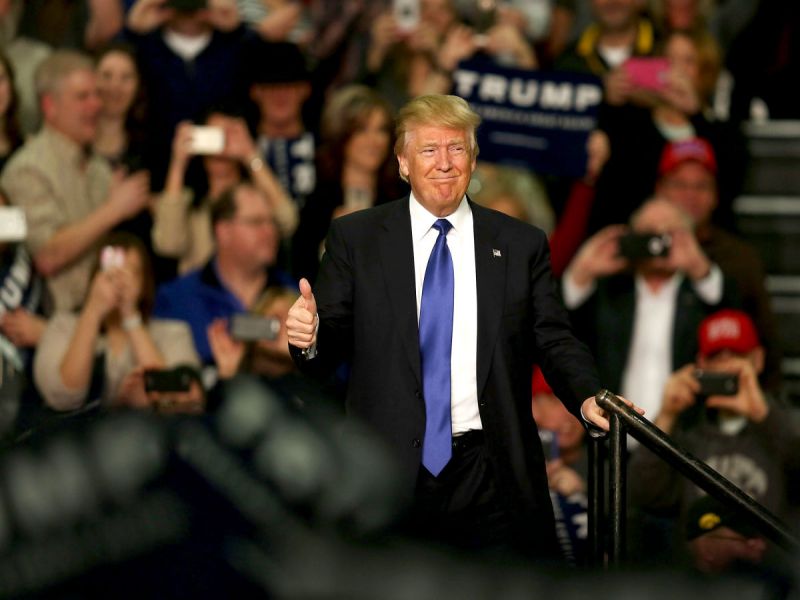 The more outrageous that Trump got the more the voters loved his anti-Washington rhetoric as well as his constant battle with the press.
Trump entered the race as a New York real estate developer who lives in a sparkling Manhattan high-rise, he quickly found a way to connection with white, working class Americans who feel left behind in a changing economy and rapidly more diverse country.
He made immigration, both from Latin America and the Middle East, his signature issue and made sure that everyone knew that it was, in his mind, the root of problems plaguing many Americans and tapped into fears of terrorism occurring at home and in Europe.
On Tuesday in the election he beat Clinton by blasting through Democratic strongholds like Pennsylvania and Wisconsin, states that hadn't voted for a GOP presidential candidate since the 1980s. He needed to win nearly all of the competitive battleground states, and he did just that, including Florida, Ohio, North Carolina and others.
Meanwhile, down ballot, GOP Senate candidates beat Democratic challengers in key states, including North Carolina, Indiana and Wisconsin. Republicans also maintained their grip on the House.
Senate control means Trump will have great leeway in appointing Supreme Court justices, which could shift the bench to the right for decades.
Trump has pledged to usher in sweeping changes to U.S. foreign policy, including building a wall along the U.S.-Mexico border and suspending immigration from countries with terrorism ties. He has praised Russian President Vladimir Putin and spoken of building a better relationship with Moscow, worrying some in his own party who fear he'll go easy on Putin's provocations.
Putin sent him a telegram of congratulations and talked about better relations between the two super powers.
Trump upended years of political convention on his way to the White House, leveling harshly personal insults against his rivals, calling Mexican immigrant's rapists and murderers, and vowing to temporarily suspend Muslim immigration to the U.S. He never released his tax returns, breaking with decades of campaign tradition, and eschewed the kind of robust data and field efforts that helped Obama win two terms in the White House, relying instead on his large, free-wheeling rallies to energize supporters. His campaign was frequently in chaos, and he cycled through three campaign managers.
Conway, his final campaign manager, touted the team's accomplishments as the final results rolled in, writing on Twitter that "rally crowds matter" and "we expanded the map."
Clinton faced persistent questions about her honesty and trustworthiness. Those troubles flared anew late in the race, when FBI Director James Comey announced a review of new emails from her tenure at the State Department. Just two days before Election Day, Comey said there was nothing in the material to warrant criminal charges against Clinton.
Trump will inherit an anxious nation, deeply divided by economic and educational opportunities, race and culture.
Exit polls underscored the fractures: Women nationwide supported Clinton by a double-digit margin, while men were significantly more likely to back Trump. More than half of white voters backed the Republican, while nearly 9 in 10 blacks and two-thirds of Hispanics voted for the Democrat.