Team Trump building a ground game to match Clinton's
NEW YORK – Trailing in the latest polls Donald Trump's campaign is expanding operations in the "must win, "state of Florida where he's anywhere from nine to three points behind Hillary Clinton.
According to Breitbart there was a meeting on Friday in Orlando between the Republican National Committee (RNC) and Trump campaign officials, Trump's Florida strategist Karen Giorno told The Hill they plan to open 25 field offices and have more than 200 staff in the Sunshine State by Labor Day.
To date, Trump has only had one office in Florida – the campaign headquarters in Sarasota – and hasn't yet aired any campaign ads. He hasn't run a single general-election ad to date, instead relying on massive rallies to energize tens of thousands of supporters.
So far, Trump has been running the most unconventional presidential campaign seen in Florida in the modern era.
Meanwhile, Trump on Tuesday gave his stumbling campaign a major shakeup, bringing in two top leadership figures.
Trump hired Breitbart News Chairman Stephen Bannon to be the campaign's chief executive, and Republican pollster Kellyanne Conway to be campaign manager. Conway, will travel with Trump and keep him updated on the latest polls as well as keeping him on message.
According to The Hill Clinton's campaign has run a traditional operation in Florida from the outset, focusing intensely on the fundamentals of identifying and registering voters.
Volunteers began building Clinton's Florida infrastructure in April 2015, and the campaign has had paid staff installed in the state since the middle of last year.
In the months since, Clinton and her allies have dropped millions in advertising in Florida and built a vast staff and volunteer network there, though the campaign refuses to provide staff numbers.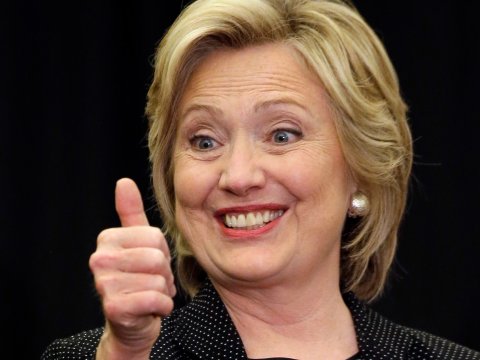 The Clinton campaign already has 14 Florida field offices and is working closely with Democratic mayors across the state to identify and register new voters, a senior Clinton official in Florida told The Hill on Saturday.
More offices will be opened in the coming weeks, the official added.
The Clinton campaign and its vast volunteer network have been operating for months outside of churches, community centers, supermarkets and beauty salons to register young voters, women and minorities, particularly among Florida's fast-growing Hispanic neighborhoods.
Clinton also holds a massive advertising advantage in the state.