Hey, early voters, regretting that Hillary vote yet with new FBI probe coming?
How are you feeling now, all you early voting and mail-in-balloting Hillary Clinton supporters? You wouldn't listen to temperate voices telling you to keep your powder dry until Nov. 8, because you never knew what revelation the next news cycle would bring, and now here it is thanks to your friends at the FBI.
In a letter to Congress, Director James Comey reports your pick — which you can never, never, never get back — is once more the target of an FBI investigation. Or maybe she's still the target. Either way, less than two weeks before voting wraps up, your choice is again possibly in deep legal poo-poo.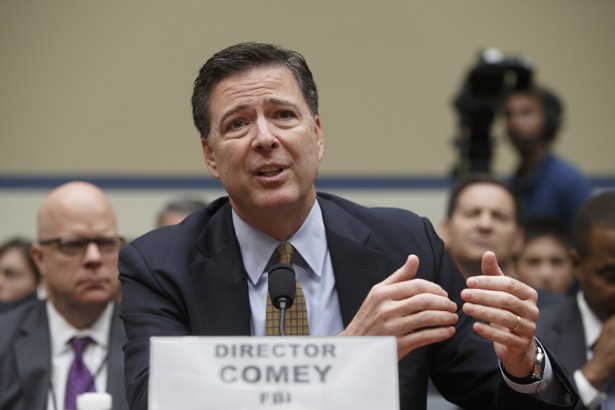 Must read: Comey to open another investigation in Hillary Clinton's emails.
Must read: Clinton wants Comey to show the new evidence   
Not that it much matters, unless agents drag her, handcuffed, from one of her planned Florida events next week. If the tenor of my Twitter feed is any indication, I know what you're thinking. Big deal. So what? Been there, skated on that.
Oh, sure, a few of you are wondering why Comey is trying to re-rig the rigging that was rigged when the director gave Clinton a scolding and a pass back in early July. Who knows? The official story is FBI investigators brought fresh evidence, but maybe it turns out the guy was having trouble living with his conscience. Either seems plausible to me.
The immediate question seems to be: Will Comey's announcement influence the election? My instance analysis: Who can say?
Partisans on both sides already were"coming home," as the saying goes. That is, by and large those associated with the major parties are declaring their intention to vote for their nominee. This is almost always how it works.
But this, as we keep discovering, is not a year that plays by any particular rules. The difference — because there has to be — is that Democrats seem to be somewhat more likely to rally to Hillary Clinton than Republicans are to Donald Trump.
The disparity, with polls reporting Trump once more fairly well ahead among independents, could wind up providing Clinton's winning margin. Of course, the news out of the FBI resembles Corey Kluber's knee-buckling curveball.
This is the part I don't get. Or maybe I do get it, but I am clinging to every shred of plausible deniability that Democrats and Republicans care equally about keeping corrupt personalities away from the levers of power.
Here's how it all coalesced for me: The other day, arguing the merits of waiting to Election Day to cast a ballot — because, as we learned Friday, there's no telling what the next day's news or WikiLeaks dump will reveal — a left-leaning friend who'd already mailed in his ballot declared, "I don't care what comes out between now and Election Day. There is no way in hell I'm voting for Donald Trump."
I understand that. If you believe your vote is nothing but a cog in a binary machine that will spit out one winner or the other, committing to the preferable, or less repugnant, candidate is the pragmatic choice.
And, again, increasingly that appears to be what's happening among partisans.
What astounds and, indeed, worries me, however, is that only Republicans — in potentially pivotal numbers — seem to regard their vote as a philosophical instrument, something that represents not just a demonstration of their pragmatism, but also a reflection of their ideals.
As a human being, Donald Trump is a boor and a bully. As a politician he is ill-informed and incurious. As a Republican, he is anathema to assorted bedrock virtues that have been the foundation of the GOP since Goldwater.
Accordingly, some prominent Republicans have declared their support for Clinton. Many others are making known their intention to vote for a third-party candidate, or to write in a name.
These Republicans seem to be weighing their options as the Founders would have preferred. Meanwhile, Democrats and their left-leaning no-party allies pat their dismayed GOP friends on the shoulder, murmuring, "There, there," all the while planning to mark their ballots for an openly corrupt, greedy, election-fixing, paranoid serial abuser of power, all because she holds the correct views on abortion and taxes.
They would never even consider a third-party or write-in option as a complaint against the system that gave them Herself.
Because holding power is everything. And if it means voting for someone under FBI investigation who trades power for cash and who already got away with worse than that for which four-star generals face prison time, that's the way it goes.
Want the latest in political talk? Join Tom Jackson, Joe Henderson and Jim Williams for the Politically Incorrect Podcast.