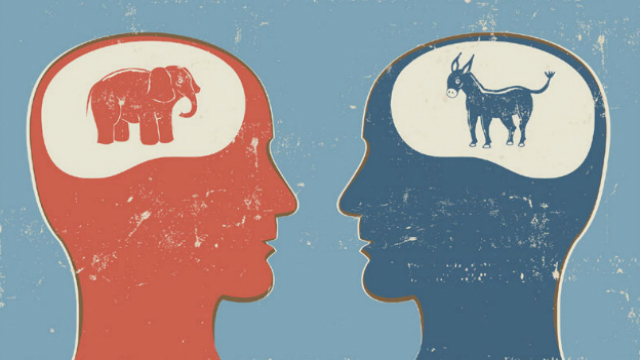 Dan Maduri and Jim Williams in this edition of The Politically Incorrect Podcast talk about the rampant problem of Tribalism. We share with you a few excerpts from a recent article from the Pacific Standard titled America's Seven Political Tribes
For at least the past decade, it has been widely assumed that Americans overwhelmingly identify as either a member of the political left or right. When it comes time to vote, even self-proclaimed independents consistently come down on one side or the other.
A large bipartisan study suggests this binary framework, however useful in predicting election outcomes, greatly oversimplifies the relationship Americans have with their nation's politics and government.
The Politically Incorrect Podcast is Powered by Warby Parker – check them out today
Listen to "Jim Williams and Dan Maduri talk about how Tribalism is killing our political process." on Spreaker.
Hidden Tribes, a report by the initiative More in Common, confirms we are experiencing a time of deep polarization, rooted in very different value systems. But it further finds "the middle is far larger than conventional wisdom suggests, and the strident wings of progressivism and conservatism far smaller.
It argues Americans are best divided into seven distinct tribes: progressive activists (about 8 percent of the population), traditional liberals (11 percent), passive liberals (15 percent), the politically disengaged (26 percent), moderates (15 percent), traditional conservatives (19 percent), and devoted conservatives (6 percent).
While most of those are self-defining, a couple cry out for clarification. "Passive liberals" are defined as people who are largely uninformed and politics-averse, "but when pushed, they have a modern outlook and tend to have liberal views on social issues." They are the people Democrats try, and often fail, to get to the polls.
The distinction between "traditional" and "devoted" conservatives is mainly one of vehemence. Traditional conservatives "have a clear sense of identity as American, Christian, and conservative, but they are not as strident in their beliefs as devoted conservatives," the report reads.
Nevertheless, the study's authors identify both types of conservatives, along with progressive activists, as the "wings" of our political structure. Members of these groups, which combined make up one-third of the nation, are true believers in their cause, and are more likely than most to be politically engaged.
Members of the other four groups—including traditional liberals, defined as people with "strong humanitarian values" who "respond best to rational argument"—make up what the authors call the "exhausted majority." For all their differences, people in this category—who make up 67 percent of the population—are more ideologically flexible, fatigued by all the polarization and angry rhetoric, and generally supportive of political compromise.
They also tend to feel forgotten, for obvious reasons.
To get a better idea of the findings and what they mean for the coming election and beyond, Pacific Standardinterviewed lead author Stephen Hawkins, a public opinion researcher who earned a master's degree from Harvard University's Kennedy School of Government. He joined More in Common soon after its founding in 2016, and conducted similar research in several European nations before turning to his home country.